Ximei Resources signed a project investment agreement with the People's Government of Leizhou City
2022-08-04 Source:Ximei Resources
On the morning of August 3, Ximei Resources Holding Limited ("Ximei Resources" or the "Company") signed a investment agreement with the People's Government of Leizhou City, Guangdong Province.Ximei Resources President Wu Lijue and Zhang Renjian, member of the Standing Committee of the Zhanjiang Municipal Committee and Secretary of the Leizhou Municipal Committee attended the ceremony and witnessed the signing of the project investment agreement, with Ximei Resources Vice President Zhong Yuelian and Leizhou Vice Mayor Chen Danzong representing both parties.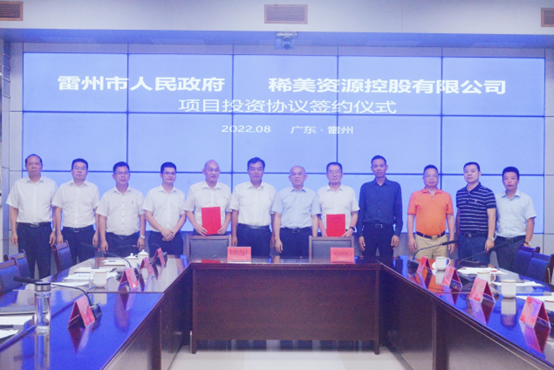 At the signing ceremony, the two sides introduced their respective situations and carried out in-depth exchanges and discussions around the development prospect of tantalum-niobium industry and the development strategy of Ximei Resources and the construction of the industrial park. Wu Lijue thanked Leizhou Municipal Government for its strong support to the development of the project. The investment in the 3,000-ton high-performance tantalum-niobium oxide green manufacturing project will help enhance the company's market competitiveness and consolidate its leading position in the industry.Zhang Renjian welcomed the investment in this project, which will help local industry upgrade and employment growth.
As the world's leading tantalum and niobium smelting manufacturer , Ximei Resources always insists on industry focus and makes every effort to build a tantalum and niobium ecological chain. The implementation and completion of Leizhou project is in line with the national industrial policy and the overall development strategy of the company in the future.