2021-06-03 Source:Ximei Resources
Recently, Ximei Resources (Guangdong) Limited received the membership certificate for 2021-2022 issued by the Tantalum-Niobium International Study Center (TIC). Since 2014, Ximei Resources has become a member of TIC.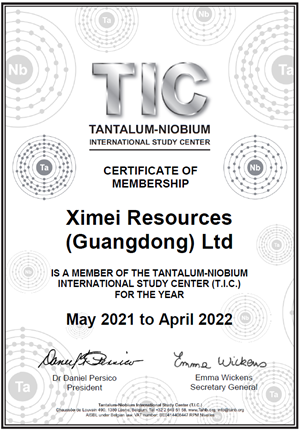 Ximei Resources can provide tantalum pentoxide, niobium pentoxide , potassium heptafluorotantalate,tantalum & niobium pure metals, alloys and ferro niobium, etc. Ximei Group is committed to becoming the world's leading tantalum-niobium manufacturing operator, providing professional and quality solutions to customers in aerospace, automotive, electronics, national defense, medical and superalloy industries.